I am really beginning to struggle with how many different media I work in. One becomes the focus while many others neglected. I suppose I've always been this way, but I think it is just that there are not enough hours in my days. I managed to combine two of these long neglected crafts the other night during my first viewing of
White Christmas
for the season. I sat and needle felted to my heart's content creating several little domes. I've been thinking about pincushions a lot lately and knew that these little domes were destined to become the 'cushion' portion. I then took some vintage fabric I found at an estate sale this summer, sewed a little pillow with a hole cut in the top, filled them with rice and jasmine, and sewed the cushion in with a nice sturdy blanket stitch. Here they are:
Most of them are going up for sale in the
shop
tomorrow.
Also going into the shop are the latest creations in my candy line! They are the first non jewelry piece in this line, FETCHING HOOKS! They are more commonly known as orifice hooks but my friend Jill was telling me last night that she found them as fetching hooks recently. I think that is a much more lovely name than "orifice." So anyhow, I have a few of these that will be going up for sale tomorrow. So excited!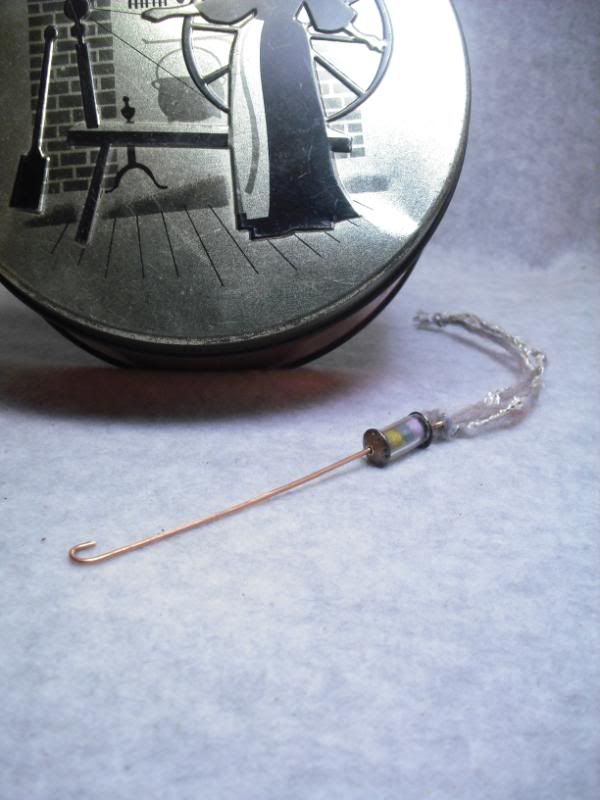 Two handspun yarns and at least one batt set will be accompanying these brand new items tomorrow!
I also began knitting my very first project that is NOT a scarf last night. I've already taken it out 3 times (Jill helped the first time I took it out) but, I am absolutely determined and I think I am on track now. I have been resisting knitting for quite some time now because I've always felt like it takes SOOOO much longer and that it is much more difficult than crochet. (Un?)Fortunately about a week ago, when I went to purchase the GIANT pom pom maker, I came across a new line of yarns and patterns at the
Your Local Yarn Shop
here in Battle Creek. This shop already carries a multitude of glorious yarns and patterns but this new line was so up my alley. It is called Spud &Chloe and they have some of the neatest patterns and a beautiful color palette. Their
site
has some free patterns too! I fell in love with a pattern for the first time. I left it where it was but...
copyright © Spud & Chloe

Candy Stripe Jacket

Well, I thought about that pattern for over a week and finally decided that since I couldn't get it off my mind, I was just going to have to buy it and take the plunge. I'm very lucky to have an excellent knitting friend (Thanks Jill!) who helped me get started. If all goes well, I may even post the finished project. :) How selfish of me to start knitting myself a sweater when I should be working on Christmas gifts...